The rating is
4.7
according to
65
companies

Country availability:
Open to all countries
Operating system:
Windows
Category:
Special Software
Multilevel marketing system
You can choose your preferred language!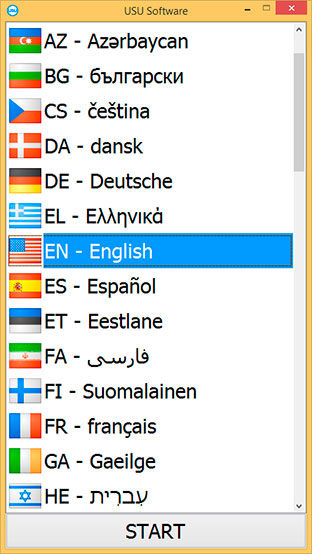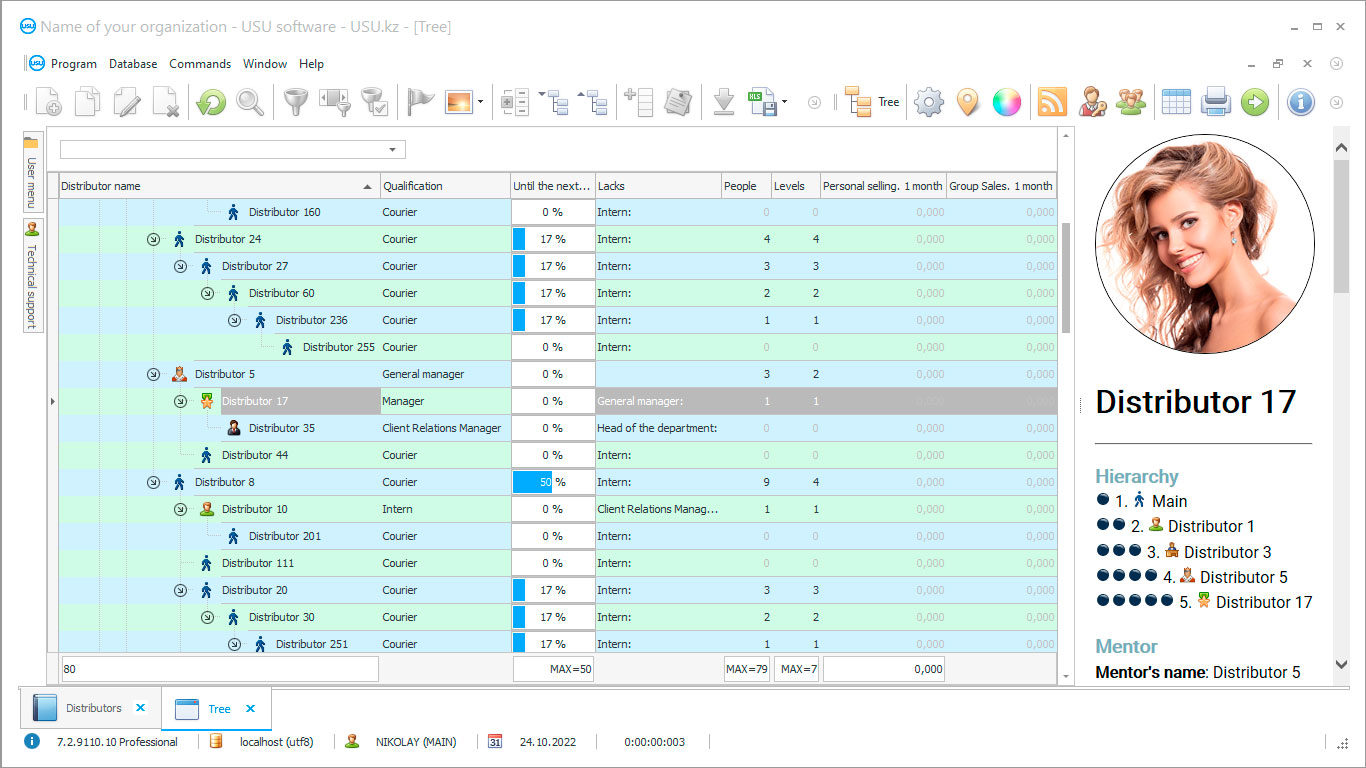 The system for multi-level marketing, in the form of an automated program, is a necessary part of MLM management, includes all levels and stages for compiling management processes in accordance with planning, organization, accounting and control, motivating all team members. In particular, the management system for multi-level marketing includes control over employees, focusing on rewards. The system for conducting multi-level marketing makes it possible not only to control, but also plan activities, fully tracking the status of work and delivery of goods orders for regular or new customers, maintaining a single CRM database, with the ability to notify about various events, promotions and payments. Our automated program "Universal Accounting System" is number one on the market, distinguished by its affordable cost and the complete absence of a monthly fee, multi-user mode and a convenient management system with multi-level marketing. All processes in the system are automated and can be configured by each user individually. For the desktop, there is a wide range of themes and screensavers, an individual account and an access code, with constant service support. Modules can be further developed upon individual request. Design and logo development is also included. In accordance with the fact that the system integrates with 1C accounting, all documents, invoices, statements, reporting will be under control. Interaction with metering devices makes it possible to keep inventory records competently, receiving notifications of the end of demanded items in a timely manner, for timely purchase. The calculation of income and expenses will be carried out by the system, and multi-level accounting allows you to automatically calculate bonuses and bonuses for each networker. The increase in technical multi-level equipment optimizes management processes in marketing, having a positive effect on the quality of services and the company's image.
To test the system for multi-level marketing right now and get to know the functionality better, you can install a demo version in free mode and evaluate the program yourself. For additional questions, please contact our specialists, who will also help with the installation of the licensed system.
Features of multilevel marketing system
The following list represents some features of Special Software. Depending on the configuration of the software, a list of features may vary.
The pyramid program allows you to track which of the attracted distributors is the most effective in distributing goods and has attracted the largest number of participants.

The computer system for the pyramid allows you to assign user roles, respectively delimiting their access levels for security.

Network marketing systems will help keep information about all distributors and attracted customers, and thanks to the wide functionality, you can quickly prepare reports and notify customers using SMS and e-mail.

The "Accounting in the Pyramid" program will allow you to track the commission report, the amount paid and the balance of payments for all participants, and if the organization is engaged in the distribution of goods, there is a warehouse accounting and sales.

Modern systems for network companies from the Universal Accounting System can easily handle the processing of large amounts of customer data, and an advanced reporting system will allow you to get comprehensive information about all distributors for a certain period of time.

The program for a network organization will allow you to mark each distributor and attracted client - the base of distributors will be common for all branches and users of the program, and reporting will help in the formation of statistics and analytics.

Multi-level marketing management is more effectively done with the help of a specialized management accounting system.

The cost of the system for multi-level marketing is low in relation to similar programs, and the absence of a monthly fee makes it indispensable and universal, due to a large assortment of modules.

Multiplayer mode is provided for all members of the network company team.

Automatic data entry and data import, ensures the optimization of working time and the most accurate use of information.

All processes performed in the system are saved for further analysis.

Search in a contextual search engine provides optimization of working time, effort and nerves.

A backup copy of all documentation helps to eliminate the loss and deletion of important information, and for many years.

The system provides personal access to each employee through a personal login and password.

Differentiated rights of use are provided for the quality protection of all materials.

Maintaining a common database of clients, with complete information, including contact details, orders made and planned, the status of payments and debts, bonuses and discounts.

Distribution of important information to customers through SMS, MMS, Email messages, both selectively and throughout the database.

Payments can be accepted in any form, cash and non-cash.

Due to the currency converter, you can make payments in any currency.

Multi-level marketing of the USU system provides for integration with various devices and applications.

Interaction with video cameras provides video materials.

Warehouse accounting, allows you to have the necessary goods in stock, automatically replenishing the running out of material.

The user database stores a complete history of jobs for each period of time.

Consolidation of several departments and branches, organizations, if necessary.

Inventory is carried out in a matter of time, entering the necessary data on the quantity and quality of goods into tables and journals.

Statistical and analytical data in the form of reports allows you to see data on sales, activity of employees and customers, income and expenses of the company.

You can interact with the system remotely using a mobile application connected via the Internet.

A free demo version is available to get acquainted with the system, getting the necessary assessment of the quality and efficiency of the system.

Modules can be further developed, personally for you.

Flexible configuration settings, adapt to each user.

The use of templates and forms contributes to the fast and high-quality execution of documents.
Download demo version
Order a multilevel marketing system!
If you want to purchase software, contact us by phone, Skype or write us an email. All contact details you can find here. You can discuss all the details with our specialists and then they will prepare a contract and an invoice.